Tutors
Tom Abrams is an international script consultant who has taught screen storytelling in more than 15 countries, Tom is a tenured professor at USC's School of Cinematic Arts in Los Angeles. His screenwriting career includes a slew of international prizes and an Oscar nomination.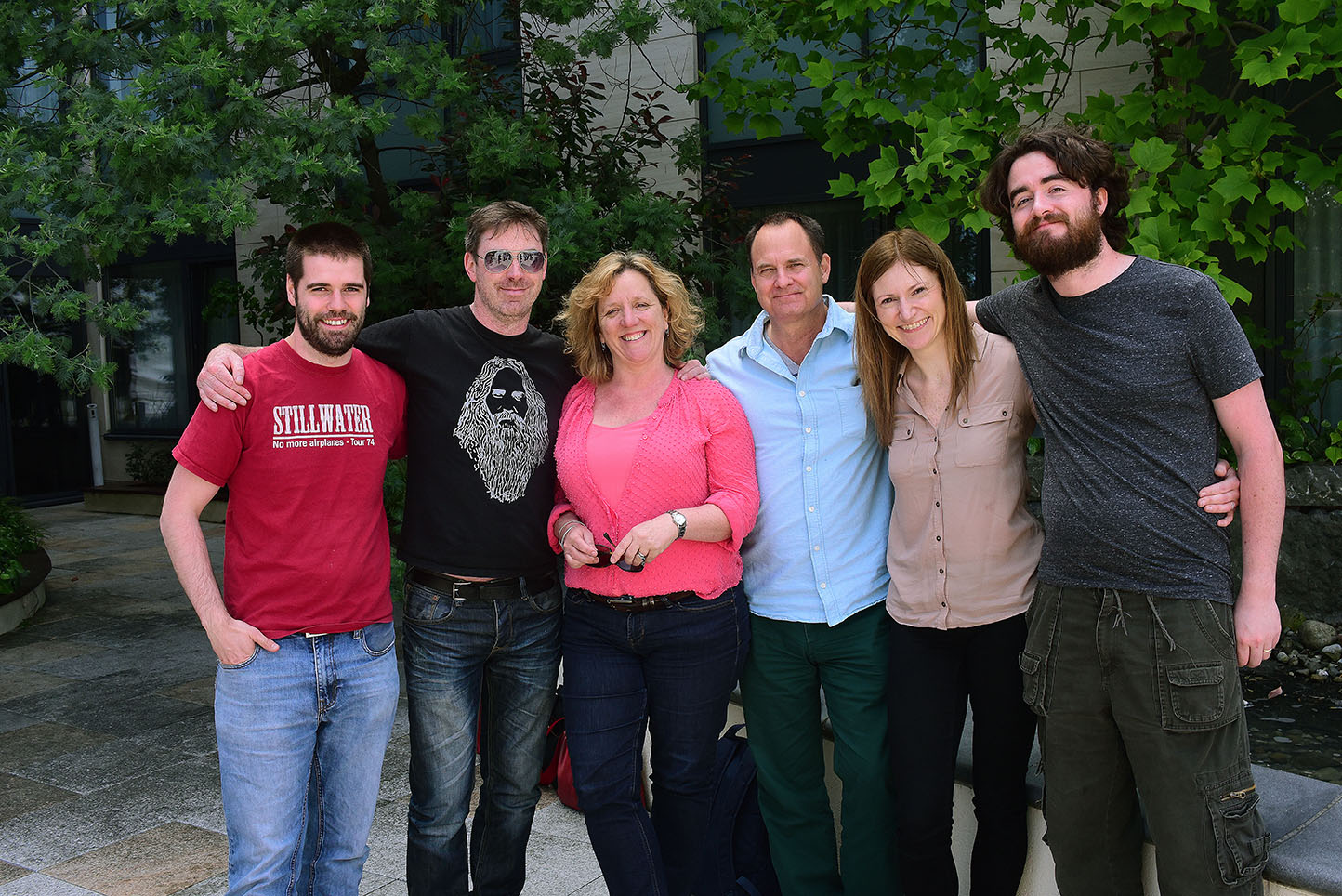 David Isaacs is Visiting Professor of Screenwriting with USC's School of Cinematic Arts. A consulting producer and writer for the AMC television drama Mad Men, David was co-producer and screenwriter with television dramas as diverse as Frasier, Cheers and The Simpsons.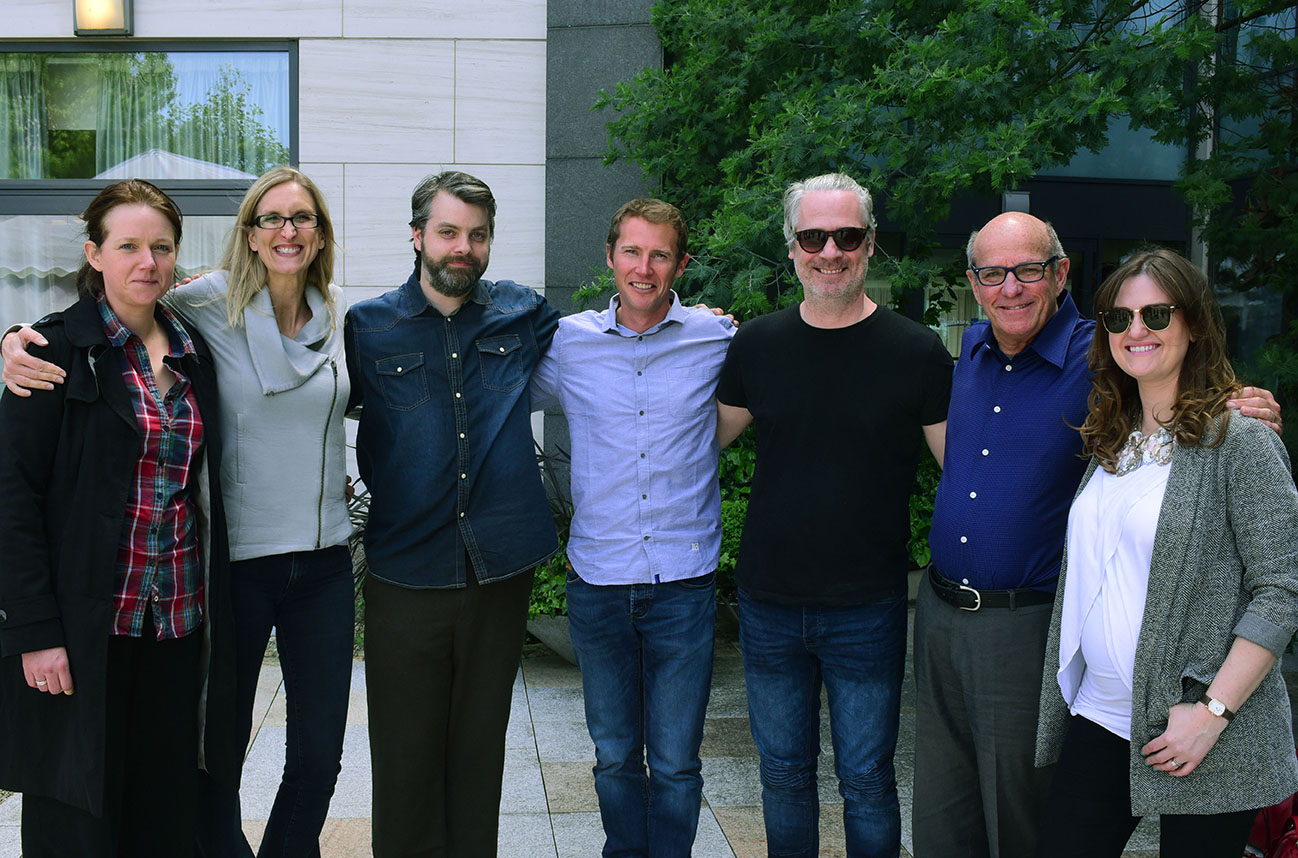 ---
Speakers
Frank Spotnitz is the creator of numerous screen serials including the recently commissioned Ransom,  Amazon's hit serial The Man in the High Castle, Medici: Masters of Florence and globally syndicated sci-fi drama The X-Files.
Emma Norton and Jennie Scanlan are Head of Development and Development Executive respectively with Oscar-nominated and Cannes-winners Element Pictures (Room, The Lobster, What Richard Did)
Malcolm Campbell award-winning screenwriter (What Richard Did, Shameless, Skins)
Orlaith Carmody is the author of Perform As A Leader and an experienced pitching coach.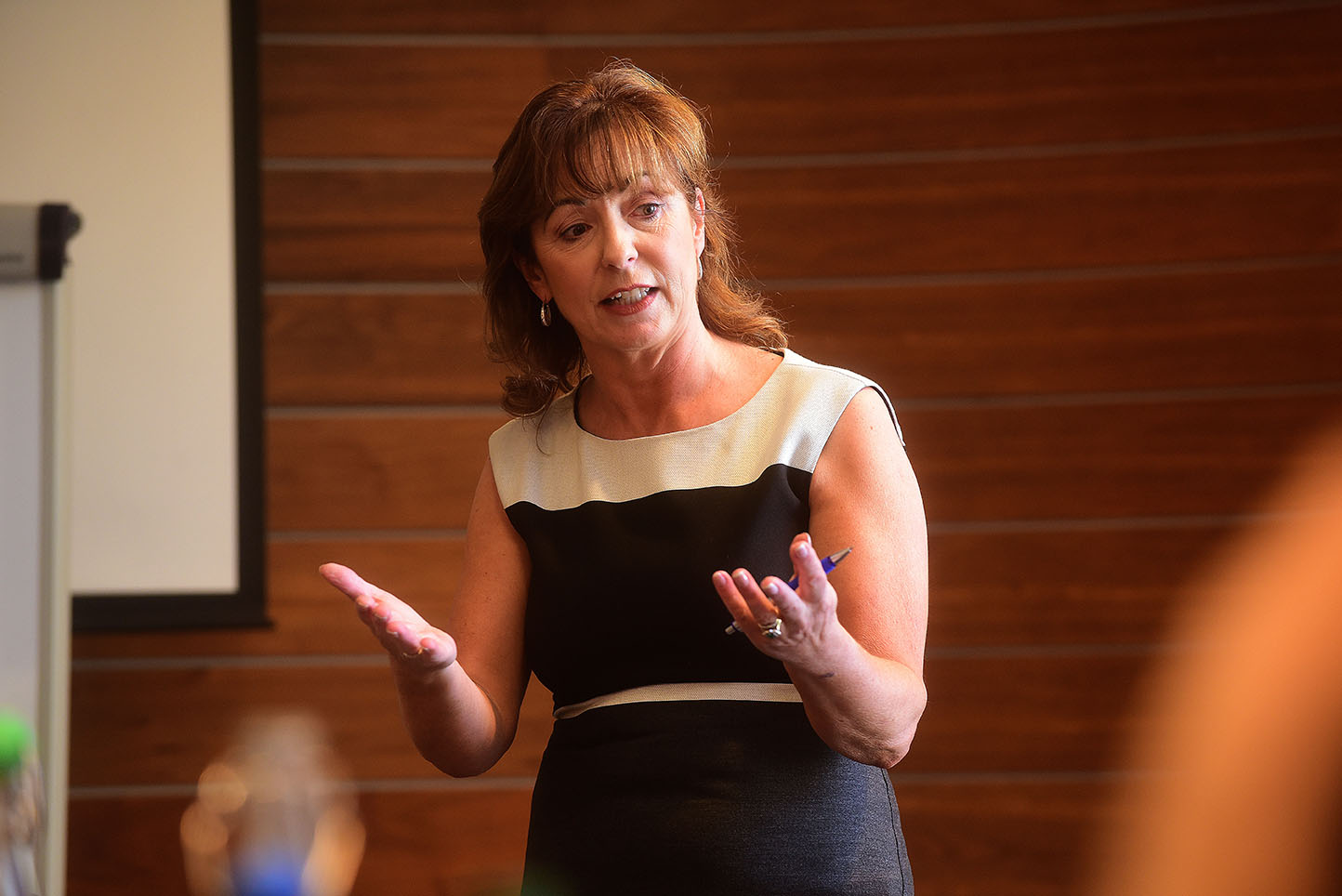 ---
The Workshop Conference
Developing Story took place from Monday the 30th of May to Friday the 3rd of June 2016. Ten projects were chosen through a rigorous and highly competitive process to participate in the week's writers' rooms. The writers' rooms were run by Oscar-nominated screenwriter Tom Abrams and Mad Men screenwriter David Isaacs. The conference's keynote lecture was given by Emmy-nominated screenwriter Frank Spotnitz. Guest speakers included screenwriter Malcolm Campbell (Skins, Shameless, What Richard Did), Emma Norton and Jennie Scanlon from Oscar-nominated and Cannes jury prize winners Element Pictures (Room, The Lobster) and communications consultant Orlaith Carmody.
The opening session featured a panel of Big Stories director Neasa Hardiman and tutors Tom Abrams and David Isaacs. Neasa explained the aims and structure of the week's events before the tutors outlined their approach and methodology. The writers then broke into two writers' rooms of five participants, each led by one tutor. The Big Stories tutors are both experienced, award-winning screenwriters who understand the dynamics of successful creative collaboration in the writers' room setting. In addition, they both teach screenwriting at Master's level at the University of Southern California, the 'feeder school' for Hollywood screenwriters. In this way, David Isaacs and Tom Abrams offered their expertise both as writers and as teachers. Their work marshalled the collaborative, creative work necessary to develop each story presented, while simultaneously developing the craft skills of the writers around their respective tables. The writers' rooms ran for four hours, working to develop the first of their five projects.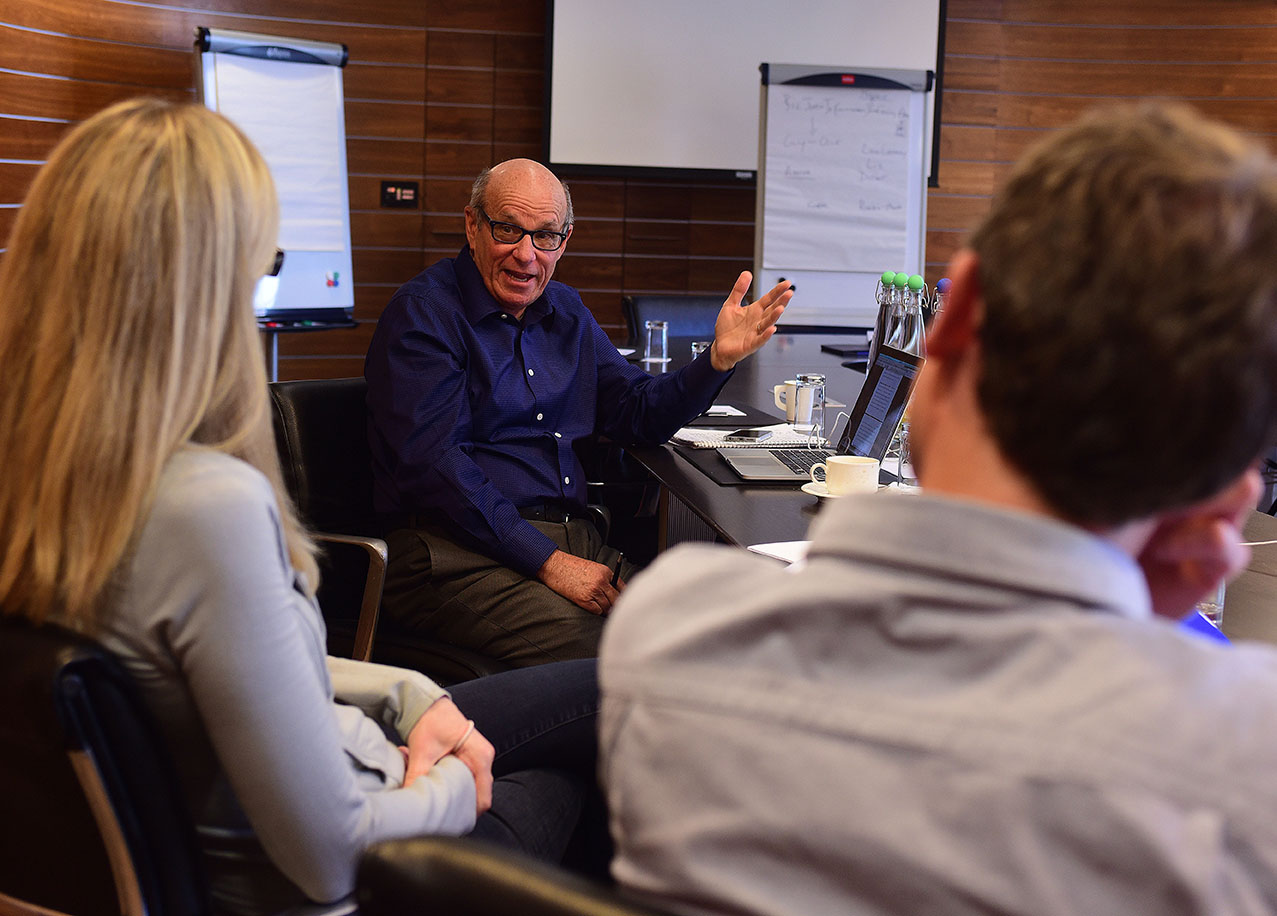 The final session of the day saw all twelve participants engage with guest speakers from the Oscar-nominated and Cannes-winning production company Element Pictures. Emma Norton is Head of Development with Element, and Jennnie Scanlon is a development producer with the company. Emma and Jennie explored the process of pitching to development executives, developing a project from initial idea to presentation to a broadcaster. They emphasised the deceptively tricky importance of clarity in relation to what a given drama is really about.
Tuesday began with our two tutors running their four-hour writers' rooms, examining the second of their five selected projects. The afternoon saw Tom Abrams screen the opening episode of Abi Morgan's River, conducting a detailed structural analysis of the six-hour narrative project. His analysis explored thematic focus, the construction of the protagonist, the expression of theme through secondary and tertiary characters and the skilful management of hopes and fears in the audience. The analysis provoked a lively debate amongst the participants on the connection between genre, theme and characterization.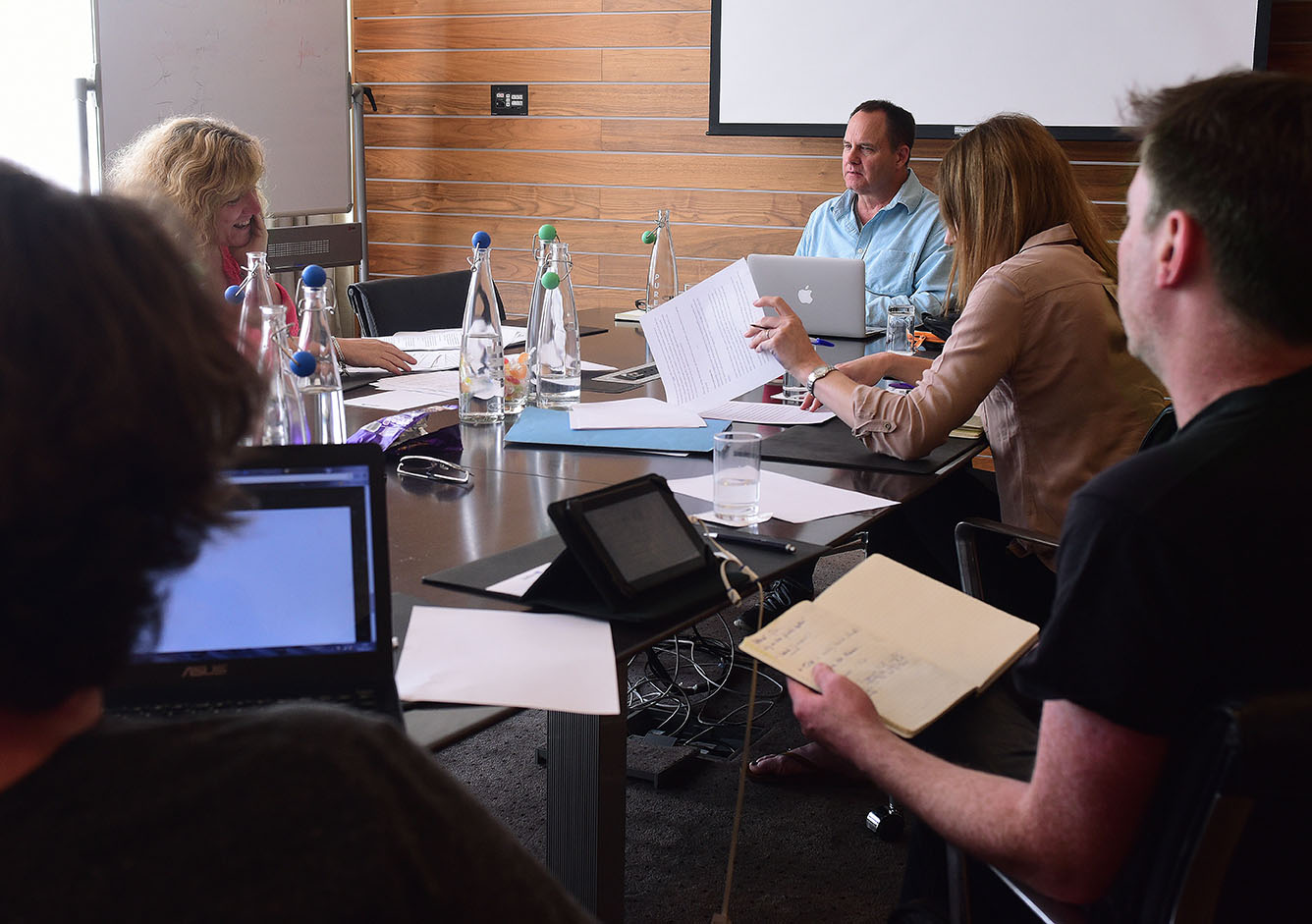 Wednesday began with the two tutors running their four-hour writers' rooms, engaging with the third of their five selected projects. The keynote lecture for the week was delivered that afternoon by Frank Spotnitz. A multi-award-winning screenwriter and producer, Frank Spotnitz's extensive list of credits includes the recently-commissioned Ransom, Amazon hit series The Man in the High Castle, Medici: Masters of Florence and the globally syndicated sci-fi series The X-Files amongst others. In addition to our participants, this lecture was open to thirty screen professionals selected via CV and application.
Frank Spotnitz gave a considered, reflective lecture outlining his experience and creative approach. He discussed the newly globalized television market, especially the advent of digital distribution and on-demand viewing. Frank pointed out that this newly globalized market offers skilled screen storytellers the opportunity to compete with big American drama on the same terms. He praised the European tradition of shorter serials, where complex, nuanced stories are typically told over six one-hour episodes. He expressed the hope that this form of drama might continue to thrive, now that it has found a far greater international audience. He connected this aspiration to his vision of a new, cinematic form of serial screen drama, emphasizing the importance of creative collaboration in making powerful, visually resonant stories. Subsequent to his talk, writer Malcolm Campbell conducted an in-depth interview with Frank in front of our invited audience. Malcolm explored with Frank his writing habits, his approach to constructing a story and his ambitions for his new company, Big Light. Frank mentioned his disdain for the term "showrunner", in that it elides the importance of collaboration in the screen storytelling process. Frank and Malcolm discussed why we tell stories, pointing up the necessity of narrative as a metaphor for understanding the world. The afternoon's session ended with questions from the audience around editorial control, the importance of knowing a story's central theme and the risks and rewards of collaborative screenwriting.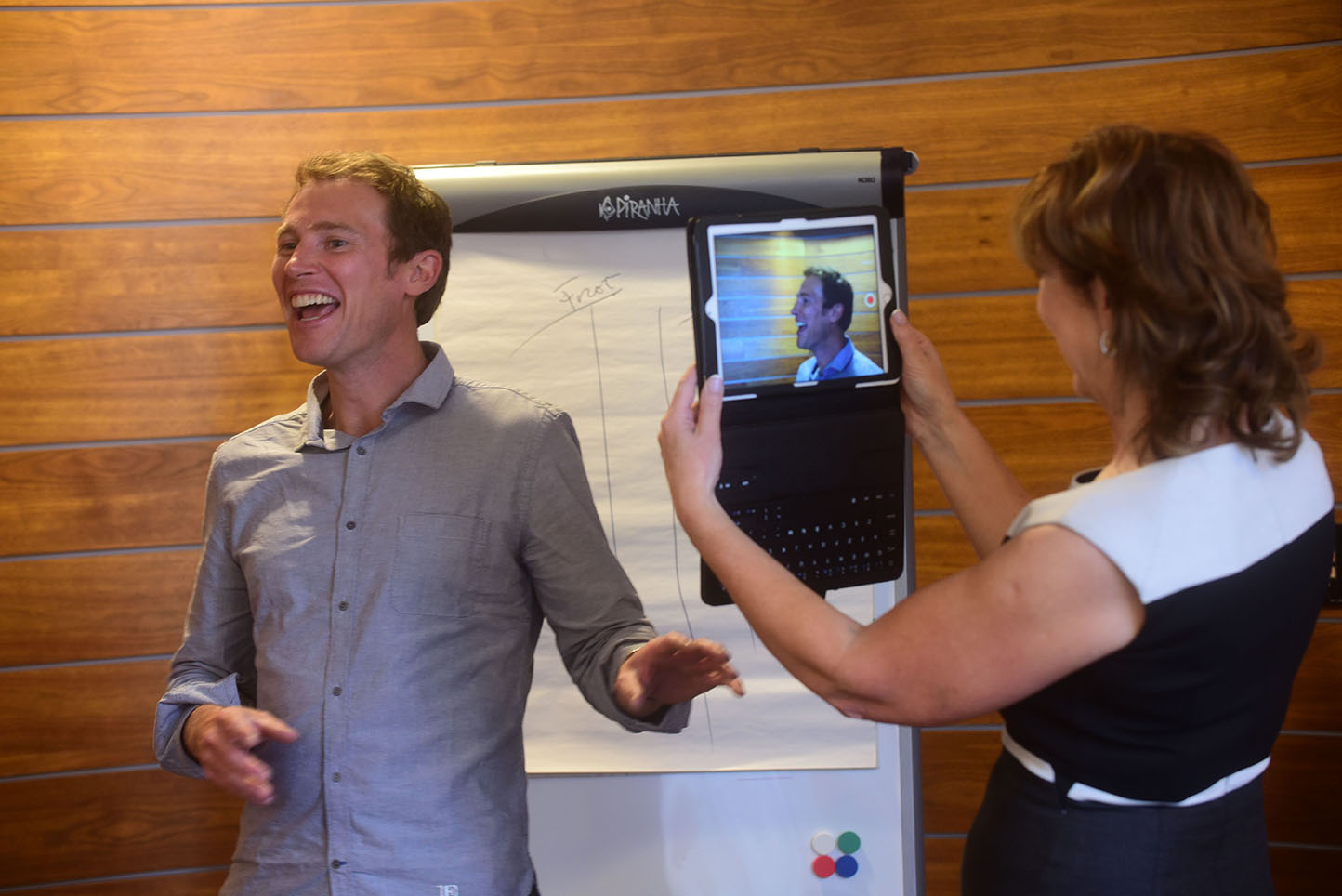 Thursday began with our customary four-hour writers' rooms, comprising more intense focus and debate over the story under scrutiny. On Thursday afternoon, David Isaacs screened the opening episode of Matthew Weiner's Mad Men. David offered insight into Weiner's extensive level of experience as a screenwriter on dramas as diverse as Becker and The Sopranos prior to his work in making Mad Men. David went on to discuss his experiences in the Mad Men writers' room during the show's second season, pointing up the drama's thematic emphasis on duplicity and masquerade, as well as Matthew Weiner's explicit thematic focus on forms of patriarchal and racial oppression.
On Friday morning our final four-hour writers' rooms took place, before an afternoon pitching session with Orlaith Carmody. Referring back to the first day's session with Element Pictures, this session was aimed at focussing our writers' attention on the essential core of their project, such that they might communicate it effectively to a potential buyer. This session introduced our participants to the principles behind successfully communicating theme, tone and character. She looked specifically at paring down narrative to its simplest, thematic core. She then shared her expertise in how to go about selling something as abstract as an idea, how to retain the interest and enthusiasm of the listener and how to avoid 'performing' in order to remain natural.
As Orlaith conducted her session, our two screenwriting tutors David Isaacs and Tom Abrams engaged in one-on-one meetings with each participant writer / creative team. These meetings looked in depth at the results of the writers' room session on each project, assisting the writer / creative team to organize their ideas so as to create a roadmap for the next phase of development.
In accordance with best international practice, Big Stories on the Small Screen circulated a detailed feedback form at the end of this week-long event. The assessment of the programme by the participants was uniformly excellent. Typical remarks include:
"Wow – what a week! Thank you SO much for all the energy and ideas. I feel like I'm part of the start of something big – the X movement!"

"It's been brilliant. Looking forward to the next stage."

"It's a privilege to take part."

"I'm looking forward to the next session. Thank you for organising such an excellent event, it really was a privilege to take part."

"A huge Thank You to Big Stories for creating and facilitating an incredible week of creative learning and development."

"David and Tom, we are immensely lucky to have worked with you for the week. To all the hugely talented fellow writers, it is an honour to be in the process with you and thanks for your generosity, energy and ideas this week. As David would say, 'I will take an idea from anyone'!"

---